his BullSELECT Workshop, presented by Southern Beef Technology Services (SBTS) and hosted by Wirruna Poll Herefords, educates beef producers about how to use the available tools to select the best bull to suit your enterprise.
The bull purchase decision can have a major influence on your cattle herd for generations.
With an increasing range of technologies and information available on sale day, selecting the right bull may seem a daunting task, but it doesn't have to be.
THE WORKSHOP COVERS:
1.Understanding the value of Genetics
2.Interpreting and understanding BREEDPLAN EBVs and Selection Indexes
3.Using online searches and smart-phone apps to identify the right ge-netics
4.Practical bull selection exercises using Wirruna bulls as demonstration, including a mock Helmsman Auction
5.Understanding the Homozygous Polled gene test
6.Introduction of Docility EBVs for Herefords
7.Hereford Progeny Test Update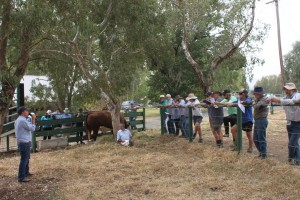 Please RSVP by 9 February to secure your spot!
For more information contact Ian & Diney Locke
•
• (02) 6036 2877
• (0408) 637 267
Download the Brochure by Clicking Here.SBTS Workshop