Wirruna Poll Herefords is a seedstock producer based in southern New South Wales focused on providing high quality & fully described Poll Hereford Bulls to the commercial beef producer. We welcome visitors to this site and encourage you to read our testimonials and view our sales section for bulls and semen for sale.
Wirruna Mission Statement
"Wirruna is dedicated to seedstock excellence. Our 'Quality Beyond Genetics' approach is to provide fully described & predictable genetics, genuine back-up service and add-on client services aimed at helping clients to achieve long term beef herd profitability."
The Wirruna Poll Hereford herd has come along way since it was founded in 1949. Today's cow herd at Wirruna comprises 600 registered females and is the result of decades of careful trait selection for improved milk, muscle and growth rate, without substantial increases in birth weight and with no compromise to temperament, structural soundness & fertility.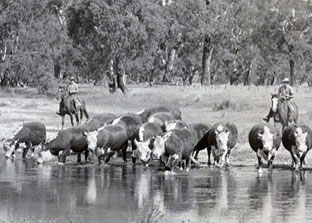 With selection for fertility being our highest priority, we continue to screen out animals that do not perform under high stocking rate pressure, well above district average. Every cow that exists in the Wirruna herd does so because she had a live calf at 2 years old (resulting from a 6 week joining) and has continued to raise a live calf through to weaning every year with no exceptions and no favourites.
The quality inherent in a Wirruna Bull is a result of being a product of this exceptional cow herd. Our history of over 70 years selection and over 18,000 animals recorded on Group Breedplan give clients confidence that Wirruna Bulls are accurately described and offer reliable and predictable performance that will meet their breeding objectives. All sale bulls are service ability tested and examined by an independent veterinarian for structural and breeding soundness.