Wirruna Success/Results
The Bull Test Station run by Riverina Artificial Breeders (RAB) in the 1980's was a comparison of bulls from many sources, run under the same conditions. Wirruna bulls excelled in the Bull Test Station with the following highlights:
RAB Bull Test Station
1st Trial 1984-85: Wirruna Buccaneer – Best weight gain & highest price
2nd Trial 1985-86: Wirruna Dobell – Champion Bull, Best weight gain & highest price
3rd Trial 1986-87: Wirruna Exchequer – Res Champion, 2nd best weight gain & highest price
4th Trial 1987-88: Wirruna Figaro – Champion and most complete Bull, People's choice & highest price

Bull trials abandoned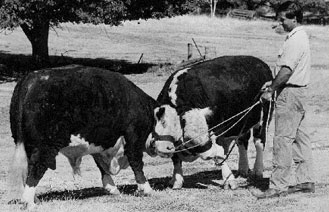 More recently, Wirruna Poll Herefords have received industry endorsement through the Beef Improvement Associations Seedstock Producer of the Year Competition.
Wirruna were honoured to be awarded the 2002 NSW Seedstock Producer of the Year and 1995 Certificate of Excellence, recognizing Wirruna's commitment to the needs of the commercial industry, client focus, breeding functionally efficient cattle using technologies such as Breedplan to achieve genetic progress.
Comparison of Wirruna to Breed Genetic Trends for measured traits –