Wirruna: The Property
The property "Spring Valley" is 3,500 Ac (1,400 Ha) at an altitude of 320m above sea level and receives 700mm of winter dominant rainfall.
Made up of 65 paddocks and mainly watered through dams & two semi-permanent creeks. Around 1,000 Ha is good improved pastures with the balance being native hill country or land set aside for regeneration & landcare tree plantings.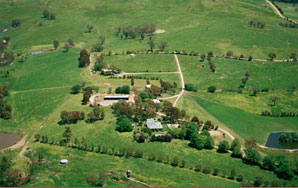 The highly productive country carries around 21 dse/Ha (dry sheep equivalent/Hectare) and receives 240kg SSP (single super phospate) per annum, while the lesser country struggles to sustain 6 dse/Ha. Much of the productive country is sown to phalaris or perennial ryegrass based pastures and we have around 100 Ha of Lucerne.
Predominantly running livestock enterprises, the property carries, approx 600 Poll Hereford breeding cows plus followers and 3,000 breeding ewes plus followers, producing prime lambs. Calving and lambing occurs in spring so to best utilise pastures which are characterised by a reliable spring flush.