Costello Holdings have been using Wirruna bulls since 1998 & currently have approximately 80 (Wirruna bulls) working under drought conditions in Central Australia.We have found the Wirruna bulls to be very fertile, easy doing, structurally sound & of good temperament, resulting from the Locke's strict testing policy on all of these traits.
Wirruna has been largely responsible for the improvement in muscling & early maturity pattern in our herd whilst keeping a cap on mature cow size, enabling our breeders to maintain high weaning rates in below average seasons.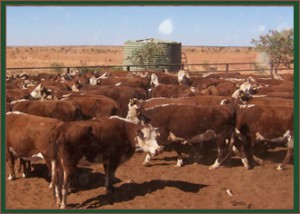 Our objective at Lilla Creek is the development of a fertile & efficient cow herd focusing on sustainability & cost of production, Wirruna compliment this well with the pressure they put their own cows under, both in stocking rate & fertility.
The genetic gain of the "Lilla Creek" herd is now closely linked to that of the Wirruna herd. Since using Wirruna bulls, Ian Locke, in his own right, has been a big help to us as a business in focusing on the issues that matter most & we value his input & friendship greatly.
Donny & Colleen Costello
Costello Holdings NT P/L